BiSS Safety is a profile definition for the established BiSS Interface. It defines how to utilize BiSS C features for a secured communication in safety critical applications up to SIL3.
BiSS Safety offers functional safety features:
Safe point-to-point communication using BiSS C
Certified for safety critical applications up to SIL3
Fully compatible with all BiSS C features
Typical BiSS Safety Applications
Functional Safety
Rotary/Linear encoders for safety critical applications
Drives for safety critical applications
Communication monitors for safety critical applications
Certification
The BiSS Safety profile definition is certified by TÜV Rheinland and follows in extracts the requirements stated in IEC 61784-3:2021. It can be used in safety critical applications up to SIL3 according to IEC 61508:2010.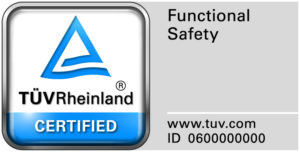 Further Information
The BiSS Safety Concept and the TÜV certificate are available in our Downloads section. A detailed BiSS Safety Profile Description, implementation manual and residual error rate calculations can be purchased from iC-Haus GmbH.