Renesas
Big Ideas for Every Space
---
| | |
| --- | --- |
| Website: | Renesas |
| About: | Renesas Electronics Corporation delivers trusted embedded design innovation with complete semiconductor solutions that enable billions of connected, intelligent devices to enhance the way people work and live. A global leader in microcontrollers, analog, power, and SoC products, Renesas provides comprehensive solutions for a broad range of automotive, industrial, home electronics, office automation, and information communication technology applications that help shape a limitless future. |
---
Products
The RZ/T1 Group has the Arm® Cortex®-R4 Processor with FPU core, which was designed for real-time processing, and is capable of high-speed operation at up to 600 MHz. Furthermore, access does not need to be performed via cache memory, and tightly-coupled memory capable of definitive real-time response processing is built-in, enabling high-speed access from the CPU without passing through the cache memory. RZ/T1 devices that are equipped with a built-in Renesas R-IN engine ("R-IN engine"), an accelerator for industrial Ethernet communications, can perform industrial Ethernet processing without loss of real-time performance by Hardware RTOS (HW-RTOS) RZ/T1 devices that are equipped with a configurable absolute encoder interface are perfectly suited for precision motion control applications. The range of industry standards that are supported by the configurable encoder interface includes EnDat2.2, BiSS® C, A-format™, Tamagawa and HIPERFACE® DSL.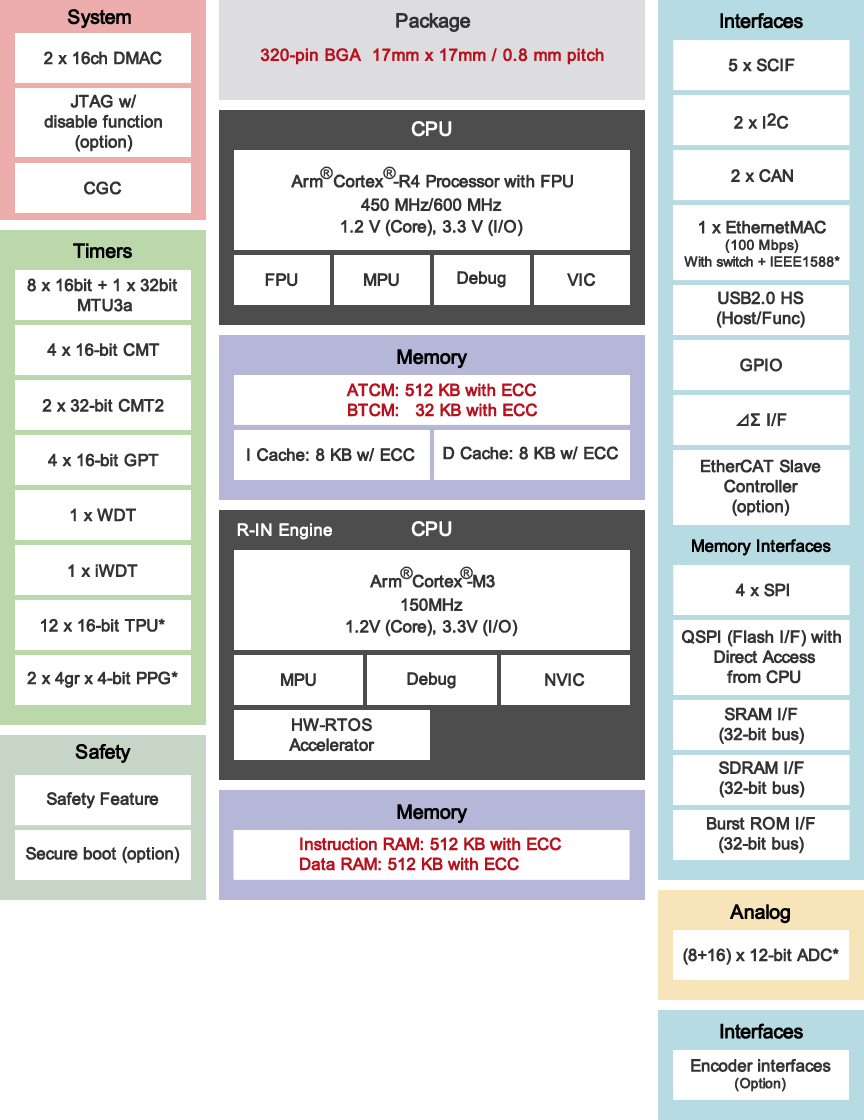 RZ/T2M is an Industry-leading high-performance multi-function MPU that realizes high-speed processing and high precision control required for industrial equipment such as AC servos and Industrial motors. Powered by dual Arm® Cortex®-R52 cores with a maximum frequency of 800MHz for real-time control and embedded with a large tightly coupled memory (576KB) directly connected to the CPU to realize high-performance real-time processing. RZ/T2M enables low latency access by arranging the peripherals for motor control to the LLPP (Low Latency Peripheral Port) that is directly connected to the CPU. RZ/T2M has a multi-protocol encoder interface that supports various absolute encoder protocols such as A-format™, EnDat, and BiSS®. Additionally, RZ/T2M has a 3-port Gigabit Ethernet switch supporting the TSN standard and EtherCAT slave controller. Eventually, Renesas RZ/T2M realizes high speed and highly precise motor control and industrial Ethernet communication such as EtherCAT, PROFINET RT/IRT and EtherNet/IP by single chip.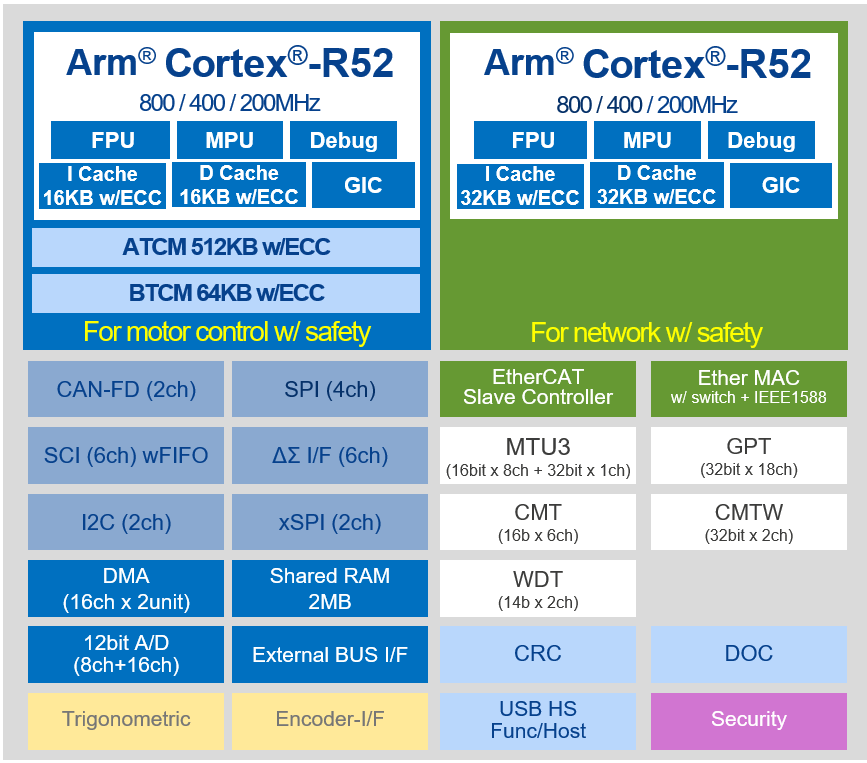 RZ/T2L is a high-performance MPU that realizes high-speed and high-precision real-time control with EtherCAT. RZ/T2L has Arm® Cortex®-R52 @Max Frequency 800MHz and the large tightly coupled memory size (576 KB) is directly connected to the CPU, reducing the fluctuation in execution time that can occur when cache memory is used, and delivering deterministic and fast-response processing. RZ/T2L has seamless hardware architecture with RZ/T2M such as CPU core, peripheral functions and LLPP (Low Latency Peripheral Port) bus, and can be proposed for higher performance control systems such as AC servo. Also, RZ/T2L offers a scalable and compatible software platform with Renesas MPUs and MCUs. It enables customer utilizing their software assets for new model development.