CompactPCI multifunction counter board CPCI-1710
The CompactPCI multifunction counter board CPCI-1710 is a fast multifunction and multi-channel counter board for use in the harsh industrial environment.
It is equipped with 4 programmable function modules. The following functions can be selected individually for each function module: Incremental counter, SSI synchronous serial interfaces, counter/timer, pulse acquisition, frequency , pulse width , period duration, velocity measurement, PWM, BiSS-Master, digital inputs and outputs, etc. The board is suitable for applications such as event counting, position acquisition, motion control, batch counting, …
64-bit drivers for Windows 8/7/Vista/XP and Linux as well as programming samples are included, real-time drivers for Windows and Linux are available on request.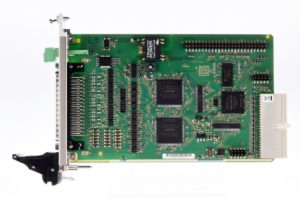 Available functions:
Incremental counter
SSI synchronous serial interfaces
Counter/timer
Pulse acquisition
Frequency, pulse width, period duration, velocity measurement
PWM
BiSS-Master
digital inputs and outputs
Function selection through software
Optical isolation
MTBF: 54 287 hours at 45 °C
TTL, RS422, 24 V
Customised functions