The open source BiSS interface has turned over a new leaf. The bidirectional sensor interface introduced by iC-Haus in 2002 has now been licensed over 450 times free of charge and has established itself as a worldwide standard in encoder and drive technology. BiSS is bus-compatible and is characterized by the continuous communication of sensor and parameter data, especially in efficient and fast motor control systems. The BiSS Safety protocol is TÜV-certified.
With BiSS Line, the user group defined a transmission technology for the complete BiSS protocol using a single cable with essential, unique features. The successful technical implementation of BiSS Line has been crucial to the establishment of an independent user organization.
On September 28, 2017, 11 members founded the BiSS Association, which hosts an internet platform where providers can share BiSS solutions. The BiSS Association will be represented at the SPS IPC Drives 2017 exhibition in Nuremberg, Germany, at the member booths of sensor, encoder, and drive manufacturers, many of whom are well-known BiSS users who now implement BiSS Line with the BiSS Safety protocol also.
BiSS Line uses standard cable and plug components available on the market and transmits 8B10B-encoded BiSS data via RS485 PHYs in well-known 2-wire or 4-wire technology. The transmission rate is comparatively high at 12.5 MBaud. BiSS Line offers unique features in that it is an open source interface and it has a bus structure for multiple slaves. The implementation of Forward Error Correction (FEC) proved essential for high data integrity in noisy environments or when using low-quality cable and plug connections.
The BiSS Association identified communication integrity in noisy environments (robustness) as a requirement for the acceptance of single-cable technology in the market. On the internet platform www.biss-interface.com, members exchange information on the development of open interfaces and report on their available solutions using the BiSS Interface. These include evaluation boards such as master and slave PHYs, hardware components (iCs, FPGAs, smart sensors), IP, files, licenses and services, sensor systems and encoders, as well as complete drive solutions. The association also recruits new members internationally for collaboration and further development in the field of machine communication. The exchange platform also provides non-members with open access to their solutions and enquiries concerning the BiSS Interface.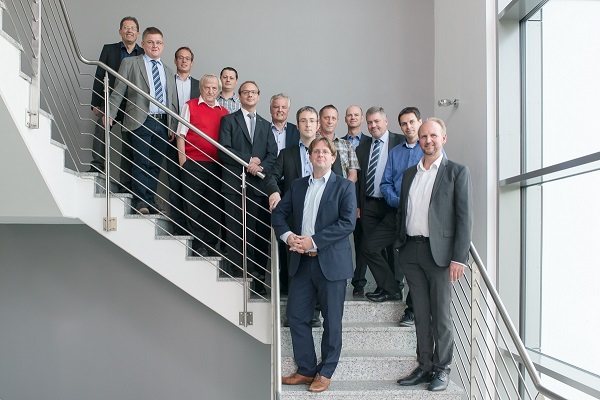 Photo: BiSS Association founding meeting (left to right: Heiko Essinger (Elgo GmbH & Co. KG), Thomas Scholl (Dr. Fritz Faulhaber GmbH & Co. KG), Dr. Michael Löken (FRABA GmbH), Claus Tessari and Holger Schilling (TR-Electronic GmbH), Jonas Urlaub (Fritz Kübler GmbH), Chairman: Dr. Heiner Flocke (iC-Haus GmbH), Tobias Hanß (Wachendorff Automation GmbH & Co. KG), Board Member: Jörg Paulus (FRABA GmbH), Reiner Berger (Kollmorgen Europe GmbH), Hartmut Unverricht (Balluff GmbH), Daniel Kleiner (Baumer IVO GmbH & Co. KG), Dr. Martin Linden and Treasurer: Alexander Ehnert (Hengstler GmbH))
BiSS Association news release (english)
BiSS Association News Release (german)
For any queries, please contact:
Dr. Heiner Flocke, Chairman (Tel -102)
Marko Hepp, Management BiSS Association e.V. (Tel -302)
BiSS Association e.V. i.G., Am Kuemmerling 18, 55294 Bodenheim, Germany
Tel: +49 6135/9292-600 Web: www.biss-interface.com
Fax: +49 6135/9292-192 E-Mail: support@biss-interface.com